2024 National Crime Victims' Rights
April 21, 2024

-

April 27, 2024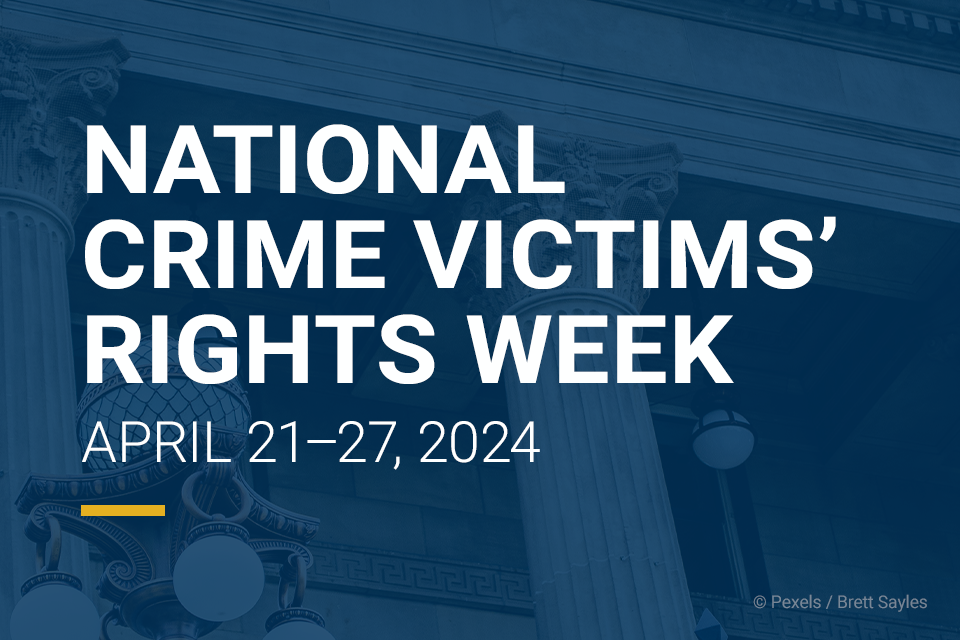 Every April, OVC leads communities throughout the country in their annual observances of National Crime Victims' Rights Week (NCVRW).
Through NCVRW we honor crime victims and survivors, recognize the professionals and volunteers who provide critical services to victims of crime, and raise awareness about crime victims' rights and services.
We are pleased to announce that NCVRW will be commemorated April 21–27, 2024, with the theme—
How would you help?
Options, services, and hope for crime survivors.
The 2024 theme asks all of us—friends, family members, neighbors, colleagues, community leaders, victim service providers, criminal justice practitioners, and health professionals—how we can help crime victims. Are you prepared if someone confides in you about a victimization? Is your organization victim-centered and trauma-informed? Are you familiar with the services available in your community?
This year's theme is a call-to-action for us all to create safe environments for crime victims to share what happened to them. By doing so, we're able to offer support, options for life-saving services, and, most importantly, hope.
Sign up for OVC's NCVRW Subscription List to receive important NCVRW updates, including information about the release of the 2024 NCVRW Resource Guide materials.